This year's whipsaw action has been fast and furious, leaving even the most patient of investors a bit frustrated as we turn the page to the second half of 2022. The pockets of the market that performed well during the bullish run through last year have reversed course , while new leaders have emerged. Sector rotation has been on full display, with institutions foregoing growth and technology names and shifting to more defensive positions.
While energy has been the hottest sector year-to-date, many energy companies have come under attack in recent weeks as prices have come down and signs of a peak in inflation continue to emerge. The energy and agricultural companies that led the market during the first half of the year are now in their own bear market, with most companies down more than 20% from their peaks.
Not surprisingly, one sector that has remained steadfast in its performance through all the volatility is consumer staples. The Consumer Staples Sector SPDR ETF XLP is showing resilience this year as the general market continues its correction. Many individual constituents within the XLP ETF have broken out to new highs this year, serving as another sign of strength. Take a look at the relative performance of XLP in 2022:

Image Source: StockCharts
Notice that this relative outperformance is marked by a steady uptrend and a pattern of higher highs. As investors, we want to target sectors, industry groups and individual stocks that are outperforming the market. It is crucial that we maintain maximum flexibility and adjust our approach to what the market is doing. Rather than initiating a knee-jerk reaction, it's important to keep an open mind about the future. Preparing for a variety of outcomes can help us deal with that uncertain future.
The stock we will analyze below makes up over 2% of the total XLP holdings. This long-term stock market winner is part of the Zacks Food – Miscellaneous industry, which currently ranks in the top 32% out of approximately 250 industry groups. Because it is ranked in the top half of all Zacks Ranked Industries, we expect this group to outperform over the next 3 to 6 months. This group has fallen just 1.5% this year versus a 21% loss for the S&P 500. By focusing on stocks within leading industries, we can improve our investing success.
General Mills, Inc. (GIS)
General Mills is a global manufacturer and marketer of branded consumer foods. The company sells products such as ready-to-eat cereals, yogurts, soups, desserts and baking mixes, frozen pizza, snack bars, as wells various organic items and pet food through retail stores. GIS also supplies its products to the foodservice and commercial baking industries. Some of the company's most recognized brands include Annie's, Betty Crocker, Bisquick, Cheerios, Fruit by the Foot, Pillsbury, Total, Wheaties, and Yoplait. General Mills was founded in 1866 and is based in Minneapolis, MN.
GIS has exceeded earnings in three of the past four quarters. The company most recently reported fiscal Q1 EPS last week of $1.12 per share, a 10.89% surprise over the $1.01/share consensus estimate. The consumer foods provider has delivered a trailing four-quarter average surprise of 6.47%, helping the earnings advance over 27% in the past year. As we can see below, GIS has been a long-term market winner and has prevailed through multiple wars, recessions, bear markets and periods of high inflation spanning several decades.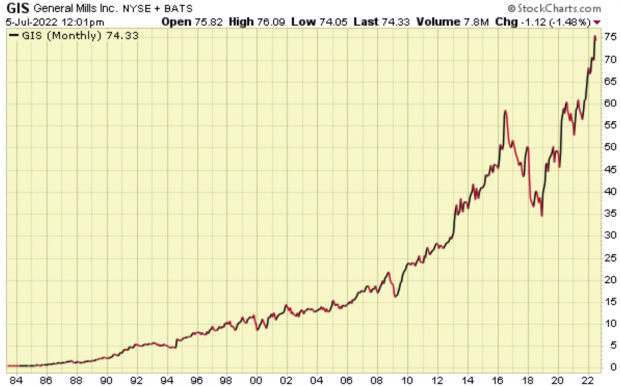 Image Source: StockCharts
Analyst have raised their full-year earnings estimates for GIS by 0.76% in the week. The Zacks Consensus Estimate for fiscal 2023 EPS now stands at $4.00 per share, which translates to growth of 1.52% relative to last year. Sales are expected to climb 1.92% to $19.36 billion.
Make sure to consider this steady consumer staple as a candidate for your portfolio if you haven't already done so.
Zacks Names "Single Best Pick to Double"
From thousands of stocks, 5 Zacks experts each have chosen their favorite to skyrocket +100% or more in months to come. From those 5, Director of Research Sheraz Mian hand-picks one to have the most explosive upside of all.
It's a little-known chemical company that's up 65% over last year, still dirt cheap. With unrelenting demand, soaring 2022 earnings estimates, and $1.5 billion for repurchasing shares, retail investors could jump in at any time.
This company could rival or surpass other recent Zacks' Stocks Set to Double like Boston Beer Company which shot up +143.0% in little more than 9 months and NVIDIA which boomed +175.9% in one year.
Free: See Our Top Stock and 4 Runners Up >>
Click to get this free report
General Mills, Inc. (GIS): Free Stock Analysis Report
Consumer Staples Select Sector SPDR ETF (XLP): ETF Research Reports
To read this article on Zacks.com click here.
Zacks Investment Research
The views and opinions expressed herein are the views and opinions of the author and do not necessarily reflect those of Nasdaq, Inc.