The Salvation Army Kroc Center hires Voeller as development director
The Salvation Army Kroc Center announced the hiring of Amy Voeller as director of development.
A longtime resident of Kootenai County, Voeller brings a passion for community, youth and nonprofit advocacy to this position, said a news release. She currently is serving on the Coeur d'Alene Regional Chamber Education and Nonprofit Committees, the Safe Passage Board of Directors, and is a member of the Coeur d'Alene Rotary Club.
"I thrive in community and in building relationships," Voeller said. "I am thrilled to join The Kroc Center to promote the mission of The Kroc and support the on-going work of transforming lives."
Development of The Kroc Center was made possible by a $70 million combined capital and endowment grant from a bequest to The Salvation Army by the late Mrs. Joan Kroc, widow of McDonald's founder Ray Kroc. As a condition to the significant Kroc grant, the community also raised $8 million locally, representing a total community investment of nearly $80 million. The Kroc Center does not receive any funding from, and the endowment tax funds operations and facility maintenance.
Voeller will work closely with established donors, prospective donors, and the community at-large to share stories of impact and build long-term sustainability for Kroc programming and ministry.
"It is because of the incredible generosity of the community that we can offer such a wide variety of programming at The Kroc," said Executive Director and Corps Officer Major Gilger. "We want to continuously and nimbly live into the needs of the community. Amy will be in the community every day, leveraging resources and support so that we can do just that."
Voeller joins The Kroc Center after spending the last several years working in donor relations, community engagement and volunteer stewardship for the Innovia Foundation. She holds an M.Ed. in Counseling and Human Services from the University of Idaho.
• • •
Spokane International Airport welcomes Anderson as manager of Properties and Contracts
Following a national search and recruitment process, Spokane International Airport is pleased to introduce Amy Anderson as the manager of Properties and Contracts.
In this position, Anderson will be responsible for negotiating, implementing, and managing leases and contracts as well as overseeing risk management and property development at Spokane International Airport, Felts Field and the Airport Business Park. Anderson joined the team on May 16.
Anderson has a strong background in property management, leasing, financial administration, and marketing. She has worked in several roles with the federal government as well as private sector companies. Most recently she served with the US Bureau of Reclamation as a Realty Specialist and Transaction Manager. Anderson earned a bachelor's degree from Washington State University and holds a Washington State real estate broker's license.
• • •
Clugston receives Edward Jones Award for Exceptional Achievement in Building Client Relationships
Rod Clugston of the financial services firm Edward Jones in the Coeur d'Alene Community recently earned the firm's Jim Phillips Award for his exceptional achievement in building client relationships.
Edward Jones, a FORTUNE 500 firm, provides financial services in the US and through its affiliate in Canada. The firm's nearly 19,000 financial advisors serving more than 8 million clients with a total of $1.7 trillion in client assets under care. Edward Jones' purpose is to partner for a positive impact to improve the lives of its clients and colleagues, and together, better our communities and society. Through the dedication of the firm's 50,000 associates and our branch presence in 68 percent of US counties, the firm is committed to helping more people financially achieve what is most important to them. The Edward Jones website is edwardjones.com and its recruiting website is careers.edwardjones.com. Member SIPC.
• • •
This weekend: Four Banner locations convert to STCU
Four Banner Bank locations will close at 3 pm today in Chewelah, Colville and Kettle Falls, Wash., and Hayden. They'll reopen Monday morning as STCU branch locations.
The conversion includes 9,000 Banner clients whose deposit accounts at those locations will move to STCU. All Banner staff at those locations have been offered positions at STCU.
The four-branch conversion gives STCU 38 branch locations, all in Eastern Washington and North Idaho. The Hayden Branch gives STCU a total of six locations in rapidly growing Kootenai County. The three new Washington branches all in Stevens County, home to 4,300 existing STCU members and the most commonly requested location for an STCU branch.
"We're happy to be able to reward those members' patience, and strengthen our commitment to rural communities," said Ezra Eckhardt, president and CEO of the Spokane-based credit union. "While members turn to digital tools like the STCU mobile app for everyday transactions, a face-to-face visit remains foundational to the STCU experience."
Months in the works, the friendly branch conversion was approved by four regulatory agencies: The Federal Deposit Insurance Corporation; the National Credit Union Administration; the Washington Department of Financial Institutions; and the Idaho Department of Finance.
"Banner's team and ours have worked together to ensure this conversion is as seamless as possible for our new members," Eckhardt said.
• • •
Buffington Mohr McNeal welcomes Potter to Advisory Team
Buffington Mohr McNeal, a Boise based Wealth Management Firm, welcomes Dan Potter as its newest Wealth Management Advisor to start on July 1. Dan was formerly the Head Men's Golf Coach at Boise State University and brings prior institutional financial advisory experience as a Senior Vice President for Griffin Capital Securities, LLC in Northern California from 2006-2012.
"Dan brings in-depth technical knowledge, exemplary communication skills, and the ability to build and maintain strong relationships," said Carey McNeal, Partner at Buffington Mohr McNeal. "These skills are the hallmarks of both financial advisors and elite coaches. Golf, like investing is a test of discipline, nerves, and patience. With his extensive connections in the Pacific Northwest and his acumen for financial strategy, coaching, and communication, we believe Dan will help us to continue to grow our position as a premier wealth management firm."
Potter spent eight seasons with Boise State and was the 2021 Mountain West Coach of the Year. He led the Broncos to back-to-back NCAA regional appearances in 2020-21 and 2021-22. The Broncos won five tournaments under Potter. Student-athletes coached by Potter earned two All-America honors, two conference golfer of the year awards, four all-conference selections, a conference freshman of the year award, 11 individual tournament titles, including two conference medalists.
Originally from Coeur d'Alene, Potter played collegiate golf for The University of Washington from 2000-04, helping UW teams get to 4 National Championships and was an All Pac-10 Conference selection in 2004. He earned a bachelor's degree in political science. He was an assistant men's golf coach for the Huskies before taking over at Boise State in 2014.
Potter's interests include anything outdoors with his wife Julia; Golf, skiing, fly fishing, and chasing their own team of three girls: Josie (5), Haley (3), and Hannah (2). He consistently supports many charities and events including Brad Duke's Windfall Classic, Brian Scott and Graham DeLaet's Idaho Youth Ranch Invitational, Boise State COBE, John Borbonus (Bravehearts) Memorial and Big Brothers Big Sisters of SW Idaho.
Potter will be responsible for developing new client relationships as well as helping current clients of the firm define and implement their wealth management strategy.
• • •
If you have a new, relocated or expanded business, or announcement of events, promotions or awards, The Press wants to let our readers know. Email the details to hmain@cdapress.com.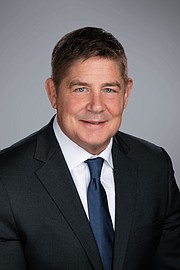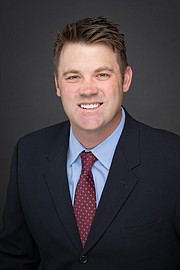 .