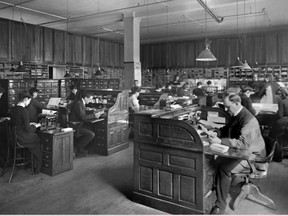 Article content
Humming with lively exuberance, 10 children filled the farm house of parents John Nelson McKim and Jane Shibley. The farm in Ernestown Township west of Kingston was a place where hard work and imagination could bring dreams to life. Anson McKim, the fourth child in the family, began a career in publishing then established one of Canada's leading advertising firms.
Article content
Emigrating from Ireland, McKim's great-grandfather James McKim arrived in New York in about 1774 and took up farming near Cambridge, not far from Albany, NY It was a complicated time to launch life in the United States. Citizens unhappy with the British were about to spark the bloody and painful American Revolution.
"In 1777, with some of his neighbors, he joined the local British forces," stated Acheson Family History in "The McKim Family." In his late 30s, the Irishman enlisted with "a unit known as Jessop's Loyal Rangers." Taken prisoner at the brutal Battle of Bennington in mid-August that same year, McKim returned to his unit for duty until war's end. (Hundreds of men were killed and even more captured at the Battle of Bennington.) The soldier then fled to Sorel, Quebec. As a Loyalist, he received compensation for the loss of farmland, home, and other property to the revolutionists.
Receiving 200 acres for his service plus more land for his adult sons, McKim and his family settled near the village of Selby in Ernestown Township, and joined the Wesleyan Methodist Church. Son John McKim settled on his parcel and married Lydia Switzer from the nearby village of Switzerville, and then grandson John Nelson McKim married Jane Shibley. The couple's family grew to six daughters and four sons, including Anson McKim, born May 2, 1855.
Anson McKim left the family homestead for a job at the Toronto newspaper, the Mail. "His duties there are not known, but he may have had an opportunity to try his hand a journalism, as is sometimes suggested," wrote André Beaulieu in Dictionary of Canadian Biography, Vol. 14, 1998. Working in the subscriptions and advertising department, McKim was later transferred to the newspaper's Montreal offices on May 22, 1879.
Article content
Promoted to head of advertising and subscriptions for the daily and weekly issues of the Mail, McKim "gradually came to realize the commercial potential of newspaper advertising," Beaulieu noted. The ad-man concluded that one remarkable advertisement placed in many daily newspapers across the country could produce financial results.
Building a customer base and encouraging sales in advertising was not an easy task. Advertising had a poor reputation, considered sketchy at best. Anson McKim set out to improve the public's stance on advertising and elevate the industry.
Attempting to compile a Canadian newspaper directory, McKim struggled—he was viewed as a competitor and other newspapers did not readily share information on readership and subscription rates. Only one volume was printed by the Mail in 1884 in Toronto, and the American Newspaper Annual and Directory filled the need instead.
With his knowledge of the value of advertising for businesses, in January 1889, McKim established A. McKim and Company. It was an unpromising start, with McKim, an agency assistant, and one office boy. First year sales were approximately $8,000. Again collecting information about newspapers and markets, McKim published The Canadian Newspaper Directory in 1892. His guide "listed more than 1,000 periodicals by province and then by city, town, or village," described Beaulieu.
"It provided information about the population, commerce, and industries of these places," plus the pages included telephone and telegraph details, information about postal and railway services and more.
Article content
Kingston's listing in The Canadian Newspaper Directory noted a population of 19,264 in 1892, and that "The city is well lighted with electric lights." Four newspapers served Kingston and Queen's University: the British Whig with daily sworn circulation of 1,852 and weekly sworn circulation of 6,179; the News, with daily circulation of 2,044 and more for weekly; Queen's College Journal, published during the school year; and the weekly Roman Catholic publication, Canadian Freeman. Annual subscription prices for the British Whig and the News were $6 for dailies and $1 for once-weekly.
Although slow to catch on initially, McKim's detailed directory was updated and published 32 times before ending in the early 1940s. Early copies were priced at $2 each.
McKim's firm was one of 19 advertising agencies in Montreal. By the early 1900s, in part due to the owner's enthusiasm, knowledge and integrity, the company was regarded as the foremost agency.
"It was a model not only in its standards and working methods, but also in the precision and diligence," Beaulieu stated. As industry experts, McKim's firm offered full service advertising campaigns, from attending to product specifications to reader's purchasing preferences. "At the technical level, the services offered by the firm included graphics, typesetting, proofreading, quality control, and accounting." The base of over 100 prominent clients included Canada's elite firms such as the Bank of Montreal and Labatt's, and American heavyweights including Chase and Sanborn and the International Stock Food Company.
Article content
Facing pressures from competitors, McKim took on three investors in 1907, including his brother John N. McKim; the company was renamed A. McKim Advertising Agency Limited. By 1911, "the agency had 65 employees in Montreal and about 10 in Toronto, as well as correspondents in New York, Boston, and London, England." The next year, the agency's capital shares reached a colossal value of half a billion dollars.
Enjoying life and family outside of his agency, McKim took delight in art as a member of the Art Association of Montreal. Golf was his passion, and he was a member of the Royal Canadian Golf Club and made president of the Royal Montreal Golf Club. (The Royal Montreal Golf Club holds the status of North America's oldest continuous-operating golf club.) The businessman also made time for several other organizations, such as the Forest and Stream Club, the Montreal Club, and more.
McKim "also was responsible for the founding of the Canadian Association of Advertising Agencies in 1915, and was elected as its president," said United Empire Loyalists Association of Canada in "Loyal Americans Hall of Honor, Bay of Quinte Branch." The next year, the agency leader "was appointed as the second vice-president of the Montreal Board of Trade."
Sitting in a railway car on January 26, 1917, McKim was on his way to Ottawa to see clients. He realized he was on the train heading for Toronto instead, and disembarked at Coteau Junction. While trying to catch the Ottawa train, McKim was hit by a train going to Chicago. He was killed near the station. "The body was not identified until 24 hours after the accident owing to the nature of the injuries," reported The Equity newspaper, February 1, 1917.
A brilliant life and career cut short, McKim was survived by his wife of 32 years, Bessie True of Portland, Maine, and daughter Helen McGowan McKim. The farmer's son from Ernestown Township grew to be a well-known and admired executive in Montreal. Anson McKim "was the first general advertising agent in Canada and he had built up a tremendous business."
Building on McKim's leadership, the advertising agency continues to serve Canadian businesses as McKim Communications Group in Winnipeg, Manitoba.
Susanna McLeod is a writer living in Kingston, Ontario.