Walking into Carter Hall Tuesday evening, students were greeted with the sound of light jazz music and a small crowd of people waiting to hear the anticipated keynote speaker of the evening: Shirval Moore, CEO and founder of Tasteful Thoughts.
The evening began with members of the Black Student Union introducing the keynote speaker, including BSU President Tyler Henry.
Moore walked onto the stage to 50 Cent's "I Got Money," ready to wow the crowd with her energetic attitude and her strategy to have an entrepreneur mindset.
"I'm the type of person that thrives off of motivation," Moore said. "I thrive off energy, and that's okay if you don't have enough energy today because I have enough energy for the both of us."
Moore began her talking by describing her early life growing up on the south side of Chicago, Illinois. After receiving her bachelor's in hotel and restaurant management at Western Illinois University in 2012 and receiving her master's in communications in 2015, Moore said she expected jobs to come knocking at her door when she returned home. However, this was not the case.
After attending many interviews after graduation, Moore settled on a job working for a corporation. After working there for a month with two degrees under her belt, Moore received her first paycheck and was "heartbroken."
"I felt overworked and underpaid," Moore said. "You mean to tell me I did late nights, early mornings, quizzes, exams, group presentations, to get this paycheck and still not feel satisfied? At that moment, I knew something had to change."
Since then, Moore has decided to take charge of her career and to develop a mindset that would be helpful in any business scenario.
"I'm not here today to persuade you to become an entrepreneur. I'm not here today to tell you to quit your job and go out and make all this money. I'm not here today to do that. I'm not here today to persuade you about working for corporate America. I'm here to help you develop an entrepreneur mindset, and with this mindset, when you leave here today, you will have the confidence to know that you are an asset. And no matter if you're working for a company or brand yourself, your paycheck, the amount of money you receive, is limitless."
With this brief anecdote out of the way, Moore began to tell the audience the steps she's taken to develop her own entrepreneur mindset.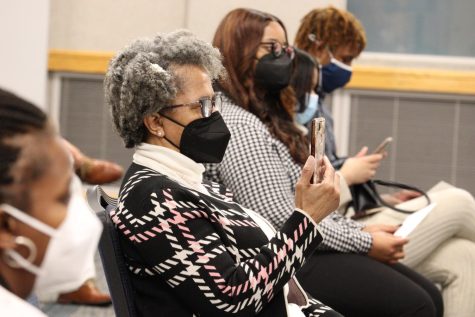 Moore began by stating that you do not have to be an entrepreneur to have an entrepreneurial mindset.
"There are people that work for corporations that have an entrepreneur mindset," Moore said. "Those are people that work for brands that become CEO and the president of that company."
Moore expressed that attitude is a huge part of the entrepreneur mindset. Having an attitude of confidence that makes people want to be around you brings positivity to the workplace, and employers notice that in employees. She said having belief and confidence in yourself is the first step to having an entrepreneur mindset because "if you don't believe in it, who will?"
Moore goes on to display two pictures of her cakes on screen. One is a three-tier Gucci brand-inspired cake, including edible money, and the other is a small 15-year anniversary cake with a fake rose-covered top. She told the audience that the third tier of the Gucci cake was actually fake, implied for customers who want the illusion of having a three-tier cake but do not want to pay for the price of one.
"As an entrepreneur and having the entrepreneur mindset, you need to have some sense of creativity. Creativity is one of the reasons to set you apart from anyone else. This all falls back to my confidence. I believe in myself because I know I do the work. My work looks good and it tastes good too."
Moore's presentation then moves onto the topic of "Business and Focus." According to Moore, the steps to take to have a successful business are to set a goal, make a plan and do the work. She explained how she used each of these steps to acquire over 600 clints for her cake business and make over $100,000 in two years.
She also told the audience that during slow times with her cake business, she created a travel agency called Thoughtful Getaways and works as a natural hair care specialist for a brand called Fully Covered Haircare.
On top of all of her businesses, Moore also explained how she went from working full-time at her corporate job to working part-time with the same benefits and better pay because of her entrepreneur mindset.
"People oftentimes tell me, 'How do you do all of this?' Well, I don't have any kids, I'm not married, so I spend my time on what I'm focused on. My focus and my vision are my businesses. I have three of them, and I do the work, I'm not lazy."
Moore concluded her seminar by stating six qualities that all good entrepreneurs have: attitude, creativity, positivity, problem solving, resilience and persistence.
"One thing about major corporations, they want people inside of the company that's going to help them grow, and if you can do that with a corporation, stay in it and stick to it because eventually, that's going to become easy money. The job I used to feel like I was overworked and underpaid, now I feel like I'm overpaid and underworked, and that's the life that you should have. Every last one of you in this room is capable of it. No matter what age."
Mariam Kenu, a business administration major, said, "Throughout this event, I learned that in everything you have to be determined to make it come to life. Sometimes, you may have some decisions that are not truly your dream, so you have to always have a goal to determine or to reach where you want to be in life."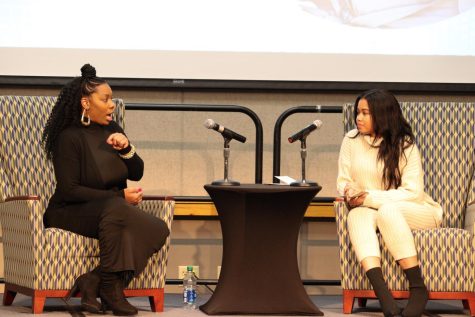 Following Moore's presentation, Jadyn Jones, a communications studies major, had a Q&A session with her. Following are her questions and Moore's responses:
Q: "What's the toughest part about being a black woman in entrepreneurship?" Jones asked.
A: "I live in Beverly, Chicago. A place where there are not too many people like me. I chose that area because if I tried selling cakes on 79th and Sony, it would limit my clientele, but I moved to an area that is very peaceful and diverse. I had a competition where I was trying to make 50 cakes in three weeks, so my first week there, there was a lot of in and out at my place. I had a neighbor who thought I was selling drugs, so they called the police on me. He said, 'We got a call, and we've been watching you because one of your neighbors said that you constantly had traffic going in and out of your house.' I said, "Officer, I make cakes.' He said, 'Well, I see that now. We just want to let you know.' It kind of hurt my feelings, but I get it. When people move and see something out of the norm, it makes you question. I had to deal with that and understand that, but to this day, my neighbors love me. Everyone on my block orders cakes from me, and they tell people I bake cakes. That was another reason why my business grew. It was a teaching moment for me, and it could make you uncomfortable, so I think that was one of the toughest moments for me."
Q: "How did your college involvement help you on your journey?"
A: "Amazing. Dr. Taylor and I went to school together. We were actually in our multicultural center. He was the vice president, now the president, so, it's building those relationships. A lot of people I've gone to college with, they're my clients. I've done their kid's baby showers and birthday parties, so, building that bond with everyone you go to school with. They don't have to be your besties, and that's another thing I differentiate with business. Business is business. Friendship is friendship, but everybody doesn't have to be your bestie. But just keeping that open line of communication and a healthy relationship will get you far in life."
Q: "If you could restart any part of your journey, what would it be?"
A: "If I could restart corporate America, I would've negotiated. I would've negotiated every time I came back to my job from school. I often think if I would've told them I had an undergraduate degree, a supervisor position won't cut it. I want to be a manager. If I would've came in the first time as a manager, the second time I could've been a GM and the third time I could've been a regional director. I feel like I could've been higher on the totem pole and still have the same qualifications and leeway as I have now."
Q: "What advice would you have for students that are graduating soon feel underqualified in either job in applying for positions?"
A: "It's normal. It's going to happen, and that's good because when you're placed in that position, that's the only way you really realize how strong you are. Don't limit yourself. Bet on you all the time, and I guarantee you will win."